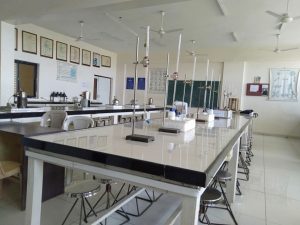 The Chemistry Department has independent laboratories fully equipped with instruments and consumables, and advanced equipment for teaching and research activities. The Engineering Chemistry Lab has a wide range of equipment. The lab is aptly prepared to impart education in Chemistry in a neatly designed, spacious and well-ventilated laboratory with a capacity to accommodate 30 students. It provides students with a practical approach towards the various techniques used in engineering application. Practical awareness is inculcated and students are trained both quantitatively and qualitatively during the lab sessions so that their understanding and problem solving abilities can be enhanced.
Major Equipment in Engineering Chemistry Lab
 Redwood Viscometers, Pensky Marten's Flash & Fire Point Apparatus, Abel's Flash & Fire Point Apparatus, Cleveland Flash & Fire Point Apparatus, Cloud & Pour Point Apparatus, Conradson Apparatus,  Electronic Balance, etc.
The Chemistry Lab practical has been introduced with a view to develop scientific attitude among the students. The topics (experiments) have been chosen to develop skill among the students so that they can measure, differentiate and analyze the best results. This will help them solve the engineering problems in their world of work.