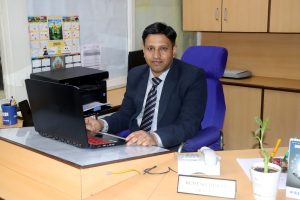 Education, particularly Technical Education is, plays a vital role in the development of the country by creating skilled manpower, enhancing industrial productivity and improving the quality of life. People talk about wonders of the world and include structures and monuments but out of imagination, Communication Engineering is the greatest wonders of the world!
With the enhanced Electronics and Communication Gadgets we are moving in the fastest age of development. If we name a gadget in Electronics and call it the latest one, maybe after a few seconds, due to enhancements in Technology, another new gadget surpasses it, and this process of development is taking place in Communication Industry at the fastest phase in the world.
It has been widely accepted that Knowledge is a potential power if implemented; otherwise, it is useless. A nation's strength lies not in the quantity of its inhabitants but in the quality of the masses that counts. Without contemporary knowledge, a human being is of no worth.
So in order to continue to spread quality technical education, we, the Dept of Electronics and Communication Engineering, are committed to taking up the responsibility of the holistic growth of the pupil coming into its folds, is committed to making all possible efforts to help in realizing their dreams as well as the society to which he or she hails from.
Prof. Rupesh Dubey,
HoD Electronics and Communication Engineering
IPS Academy, IES Indore