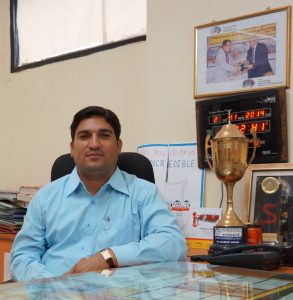 Dr. Praveen Patel
We are delighted that you are considering either a UG or PG degree program in Fire Technology & Safety Engineering. We are sure you will find the best career opportunities among all traditional branches of Engineering with these four years and two years prospectus in Engineering & Technology.
The department has an excellent reputation in the country and these programs are unique in their nature. Our programs are relevant to industries requirement and employment oriented. We have magnificent facilities and highly professional/dedicated faculty-staff required to drive these degree programs. The record of our students going into good employment is appealing and the product of the department is well accepted to major corporates of our country. The feedback we received from these corporates strengthens our vision and mission of department.
The UG and PG programs are approved by All India Council for Technical Education (AICTE), New Delhi with affiliation to Rajiv Gandhi Proudyogiki Vishwavidyalaya, (RGPV) Bhopal. Our B.Tech. program Fire Technology and Safety Engineering is accredited by National Board of Accreditation (NBA) New Delhi. Our department is voting member of National Safety Council (NSC) India, Institution of Fire Engineers (IFE) India and National Fire Protection Association (NFPA) U.K. Apart from above approvals and memberships the department is recognized by Industrial Health & Safety department, Govt. of M.P. in Bharat Rajpatra notification dated 29.05.2009 for the appointment of Fire & Safety Officer.
Wish you happy academic journey and Good Luck.
Dr. Praveen Patel
HOD, Fire Technology & Safety Engineering
IPS Academy, Institute of Engineering & Science